Hey Guys I am sharing this month's Ipsy bag and I know I am not always on top of doing that. I just get so excited when I get them in the mail that I start using them right away.
In the Ipsy Bag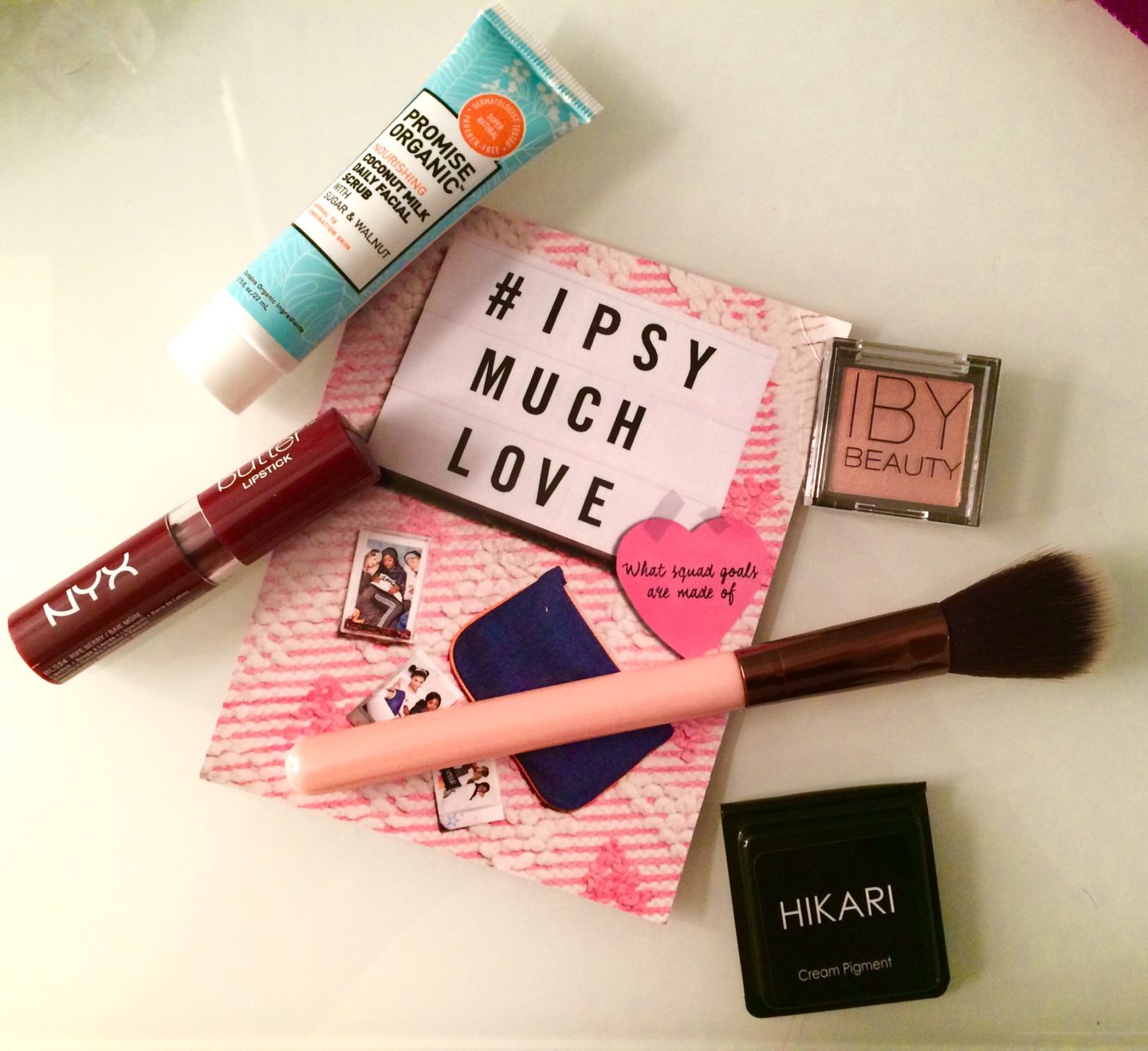 1.Promise Organic Nourishing Coconut Milk Daily Facial Scrub with sugar & walnut
First of all, one of my favorite beauty products are cleansers with sugar. I actually make my own with brown sugar, lemon juice, and coconut oil. Works like magic!
2.IBY Beauty Highlighter in Bubbly
I swear I thought this was blush. It has such a strong rosey color but it has some shimmer which I don't like. I personally dislike using blushes with shimmer on my face but I think it looks pretty on others. This highlighter really isn't that pigmented.
3. Luxie 514 Blush Brush
I was shocked when I saw that Ipsy sent me a nice real blush brush. It is so cute and the bristles are so soft.
4. NYX Butter Lipstick in Ripe Berry
Wow this lipstick really does live up to it's name. It literally feels like butter! The finish is very shiny which ehhh I guess I could grow into it.
5. Hikari Cream Pigment in Latte
I believe it is pigmented but it certainly doesn't feel creamy like i thought it would. I would switch the name to just pigment instead of cream pigment. A little misleading lol
Ipsy Thoughts
I love ipsy but I would eventually like to reach out and try other beauty subscription services. I think it would be nice to compare. How do you like your ipsy bag?
And if you aren't subscribed to ipsy's monthly service and you want to then you can sign up here.
It is only $10 a month.
I will be filming a Youtube Video soon and share swatches 🙂
Btw: Happy Valentine's Day <3
Save