Lets just start off with…working in the bridal business ain't no joke lol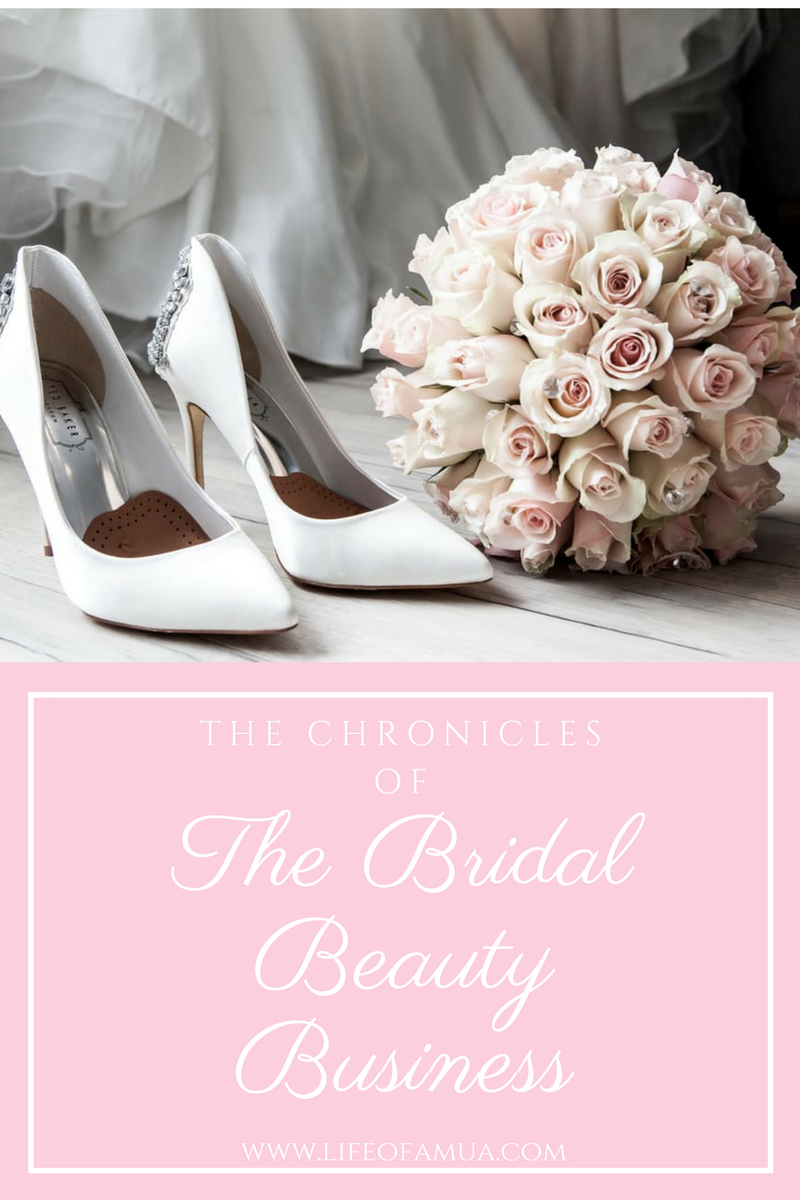 How I started in Bridal
I got a glimpse of the bridal business in the summer of 2015 while I was still working full-time at a salon. Last year was my first full year working in the bridal industry. I remember my first wedding as if it were yesterday. My bride was beyond beautiful, I had the time of my life, and I never received a paycheck so big up to that point in my life. I went to an artist business seminar a few years back and I'll never forget the phone call I got one day. The wonderful lady who conducted the amazing life-changing seminar had called me to do an airbrush makeup trial for a bride in New York and the rest is history. It was perfect timing! Working in this part of the beauty industry has changed my life in the most incredible ways and I will always be grateful for the opportunity.
Recap of 2016 Bridal Season
Last year was very interesting lol and our bridal season was quite spicy! I had my first Indian wedding last year and now Indian weddings are one of my favorite. I personally wish I could have an Indian wedding myself. I was proud to become the key makeup artist on the bridal team. When you're traveling all over the place for work, you're bound to run into some problems especially when you're driving far. Let's go down the list of 2016:
My tire blew up on the way to a traditional wedding out in Long Island on the highway and I had the evening ceremony of the Indian wedding right after in northern new Jersey. Thank god my team member and I were traveling in separate cars and we made it work. I ended up leaving my car on the side of the highway & having to go back all the way to Long Island to get my car. The Triple A Road Side Assistance had put on my spare tire but turned out my spare had a hole in it. Ended up having to go to a cheap tire place and got a $30 in the meantime. I didn't get home 'til almost 1 a.m and I was grateful we didn't have a wedding the next day.
I locked my car keys in my car after a trial when I was parked in the bride's driveway. It was so embarrassing and I couldn't use my Triple A since I maxed it out so thankfully my team member let me use hers.
I have accidentally driven to a wrong location because I didn't put in the address correctly but luckily I leave much in advance in case for traffic & accidents that I was fine but goodness was I freaking out for a good minute.
One time my the gps on my phone stopped working, I had no other gps device in my car, so I had to get directions by phone in order to get to the location…that was fun lol
I've seen some pretty self-centered bridesmaids show up extremely late for makeup services at one of my weddings when the bride had booked a huge bridal room for everyone and no one paid much attention to her…that I found sad.
I've had to wake up at 2:30 a.m for some of my weddings and I am not a morning person but I love what I do. I had no idea I would ever be waking up that early for work.
I've driven to venues in the strangest places where it seems there are no signs of life lol
I'm pretty sure I'm forgetting something but when it comes to mind I'll come back & add it 🙂 P.S I haven't had a bridezilla yet…let's not jinx it 😉
The Start of 2017
Before our first wedding in February we were reminiscing about all the good fun and crazy times we had last year. My co-worker and I both got new cars so we felt like most of our problems would be behind us now…so we thought lol. It all started out with a trip, bed bugs, and lice…let me explain. Our bride booked us a hotel in  New York (not sure if I should name the hotel but it was pretty high-end) since it was a two day ceremony. We were happy we didn't have to drive all the way back to jersey & up into New York again. I had quite a good laugh when my co-worker tripped on her suitcase and got right back up as if she didn't fall. It was payback for when I almost fell flat on my face when we were walking on the sidewalk haha. My co-worker got up to go into the bathroom while I was in bed getting into the perfect position to knock out…then I hear she found a bed bug in her bed and we were out of that room faster than we could blink..(it was almost midnight.) There we went in the next room flipping mattresses like crazy women and then laughing our asses off at how this year has started. Our next incident was a wedding where a beautiful little flower girl had lice…I was thankful I was just on makeup and not hair!
Looking Ahead
In June I'll be doing a destination wedding in Jamaica. I am beyond ecstatic & nervous since I have never done a wedding abroad and not sure how getting all my makeup there safely is going to go since there are all these restrictions on liquids & such. There also is a chance I might be doing a wedding in Mexico in September so that is like super amazing. I never thought that by working in the bridal industry I would be able to travel for free especially at my age.
Welcome to the Bridal Business…