Mink Lashes
Soo…I was never a fan of mink lashes since my first pair of them just all fell apart so easily and I had heard the same from a few artist friends. As a Makeup artist, I expect lashes to have durability since I have a limited time frame to get my clients finished and I just can't have lashes falling apart. Recently I got the chance to try out Esqido's Mink Lashes and I was taken by surprise!
The Review
From the minute I opened their package I could just feel the quality in every detail. I decided to go with their Big City Nights lashes which on contrary to it's name is on the natural side and my clients have mistaken them for eyelash extensions versus them actually being strips. Unlike some strip lashes that have a thin band and have a bit of sheen to them (which I'm not really crazy about) Esqido's mink lashes have a nice thick band which makes them soooooo much easier to put on. The quality of the strands on the strip are amazing because they give this gorgeous fine tipped feather effect. I like to reuse my lashes as long as I possibly can so I have worn this pair for a week already and they still have their shape perfectly.
Along with the lashes I got their lash strip adhesive "The Lash Companion" and I like how it gets tacky on the quicker side compared to duo. It is also latex-free (big plus) thankfully because I do have a few clients with t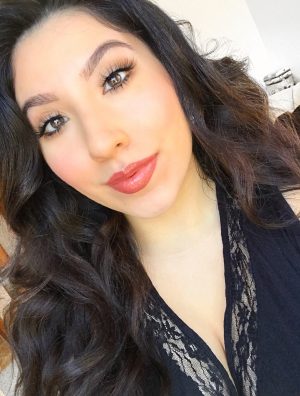 hose type of allergies. Unlike other lash adhesives, it comes with a fine tip wand which allows you to apply the perfect amount of glue to your lashes. This is my new preferred lash glue that I am permanently adding to my professional makeup kit <3
If you wanted to grab your own Esqido Mink Lashes click here to be directed to their site with $10 off your order 🙂 They have their own lash guide to help you find the perfect set of lashes according to the unique shape of your eyes and it's awesome!