Scrolling through Instagram I saw an add advertising that you can make $ on your used makeup and I thought what in the world?! Umm…like what do they even do with it?
Apparently they "sanitize" it and re-sell it for a discounted price. I just wonder how thoroughly sanitized the products are.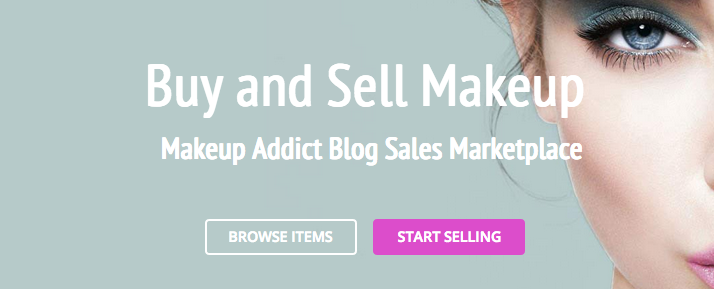 I found 3 platforms & companies where you can sell your used makeup:
1.Glambot
2.MUABS
3.Poshmark
Glambot
The company only accepts buying certain products from a list of brands. Your sell package must contain at least 20 full-size products. Glambot predicts you can earn between $15-$150 on a box of 20-25 name brand cosmetics and $25-$260 on luxury brands. You receive payment as cash via PayPal or earn 30% more in store credit. They must be having some sort of glitch on their website because when I click on the Start Selling Now Button..it doesn't lead me anywhere.Upon much research I have found some really negative reviews on this company. Youtuber, Jacquelyn Lovene, goes on a GlamBot Rant and uploaded a non-sponsored video. There are dozens of more videos with negative reviews as well.
Makeup Addict Blog Sales, To sell makeup on MUABS, you have to register on the site for free and open your own "shop," where you simply list your products, their condition and a price. You keep 90% of the profit and MUABS takes 10%. They take the risk out of buying lightly used or new luxury and drugstore makeup products by offering PayPal Guarantee Protection. However, upon further research I have found negative reviews about this as well.
Poshmark is an app that allows you to sell an array of things, not just makeup. Personally I love it so far. There are people who do buy used makeup there. For all sales under $15, Poshmark collects a flat commission of $2.95. Anything over $15 and you keep 80% and Poshmark gets a 20% commission. You then have the option of spending what you earn on Poshmark's app or withdrawing your money as cash. It is also extremely easy to use & you can sell your makeup for whatever price you want.
If you decide to sign up for Poshmark you can use my code: GSJFL and you'll receive $5 credit.
Let me know how selling your makeup goes! 🙂