Gorgeous People! Hope you're having a wonderful day….since it is Thursday, I thought I'd share a throwback of one of my makeup looks…because..why not?! lol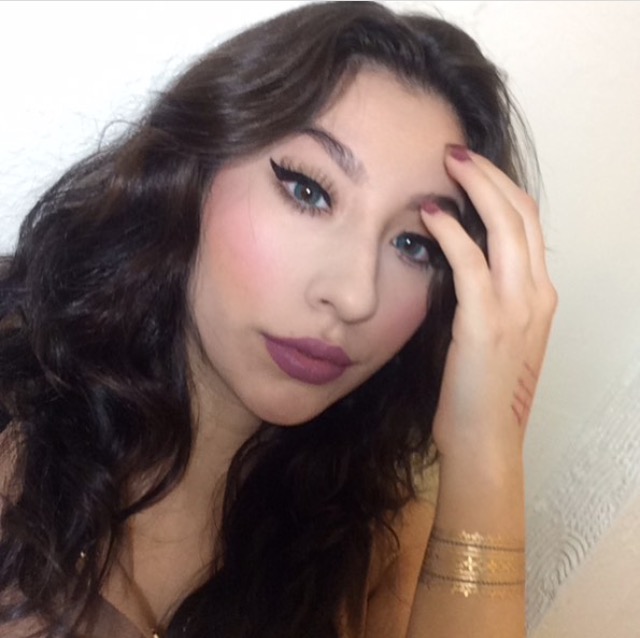 For this makeup look I decided to put in some blue colored contacts. My dad has natural beautiful sky blue eyes & sadly I didn't get them. I got my mother's pools of dark chocolate. Oh well.
In this picture I am wearing heavy black winged liner which is something I rarely ever do when I'm applying makeup on myself because honestly I am just too lazy when it comes to my appearance lately. I love making other people beautiful so I'm not really a fanatic about what I look like anymore. I focus more on enhancing the beauty around me.
Lets get to the product details creatures!
Makeup Details
Foundation: MUFE HD Foundation in 120 or 135 depending on the season(My favorite of all time and the one of the only foundations that have stayed true to me)
Concealer: Coastal Scents Camoflauge (Not a high end brand but still performs very well, so much in fact I am going to buy another palette once I am done)
Blush: Bh Cosmetics Blush Palette (Another great affordable brand)
Brows: Coastal Scents Warm Palette
Eyeliner: Inglot Gel Eyeliner
Lips: Inglot Matte Lipstick in 411 (Their Matte Lipsticks are a little too dry…I do not recommend…go with Smashbox instead)
Lashes: La Charme Brand (Check out my post all about lashes.)
I keep it simple baby 😉
On my wrist I have one of those Lustria Gold Tattoos, they are very lovely but come off easily with oil & lotions. All I use in the shower is my coconut oil sugar scrubs which I make myself so whoops. I totally recommend making your own scrubs too, there is nothing like homemade anything lol.
I would love to see your makeup looks so just tag me or use  #cristinetozser <3
Save